Chula Vista, CA
Staff member
Administrator
Wicked Stangs Advertising Rates and Ad Submission Guidelines
Note:
We fully expect all advertisers to sell only top quality products and/or services, to provide timely delivery/service, and to maintain reputable "Golden Rule" business practices. All advertising contracts are subject to termination at Wicked Stangs's discretion
at any time for any reason
, with of course a full refund for any unused advertising days pro-rated.
For any clarification,
e-mail
us.
Banner Ads as of January 1, 2011:
Advertising pre-payment limits: Minimum of six months, and a maximum of 24 months. Rates are subject to change at the end of each contract.
After sending payment, within 10 working days, advertisers must provide "paste ready" electronic graphics images in JPEG or GIF format via e-mail
here
.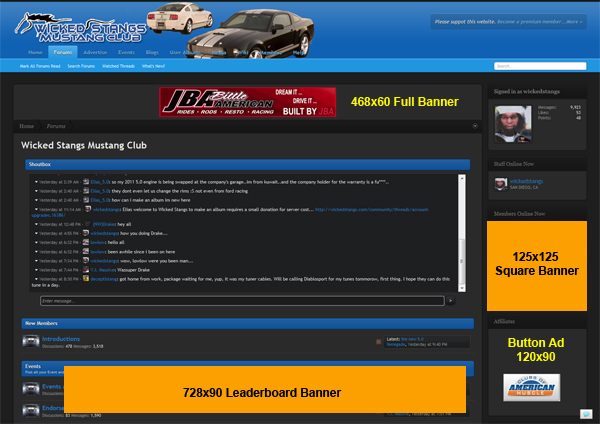 Button Ad 120 pixels wide x 90 pixels tall, random order location $30 per month​




Square Banner 125 pixels wide x 125 pixels tall, random order location $50 per month​




Full Banner 468 pixels wide x 60 pixels tall, random order location $75 per month​




Forum block posting $25 per month​
Forum block posting is for vendors who do not have a banner and who wish to post items for sale on Wicked Stangs Mustang Forum.​
Premium Leaderboard Banners



728 pixels wide x 90 pixels tall, placed on footer or Full Banner Location $100 per month (Note: There is only ONE Title Sponsor.) Note: If under Contract, and if this ad position becomes available again, it will be re-priced by competitive bidding.​
When sending payments, be sure to specify the size of banner graphic that you intend to e-mail me, and the advertising contract duration.
All advertising payments are due and payable within 10 days after the ad starts running. Renewals are due on or before contract expiration.
How to Pay for Your Ad
Formal invoices are available via e-mail.
Pre-payment for a banner ad placement is quick and easy with PayPal.
But if you prefer PayPal, our address is: sales@wickedstangsperformanceshop.com
You can also send pre-payment in U.S. Dollar-denominated instruments via:
U.S. Postal Service Money Order
Bank Money Order
Company Check
Personal Check
Make checks or USPS money orders payable to Wicked Stangs.
Mail your payment to:
Emilio Valdez
2332 Porch Swing Street
Chula Vista, CA 91915
For clarification on any of the foregoing,
e-mail
us.
Below Statistics Posted April 15, 2011