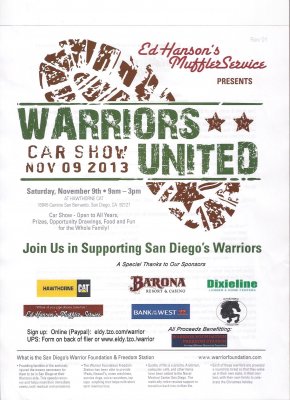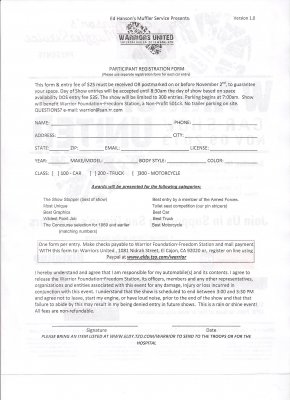 This show is being put on to benefit The Warrior Foundation and Freedom Station. These charities help disabled veterans to assist them with their recovery. They also provide the family of these disabled veterans to come out to San Diego to be at their side. I like to get max participation at this show as many of us are active, veterans, and retired military, or family of veterans.
We were approached by the organizers of this event to be in this show. They have heard of our community involvement and committment to our military, they want us to be a part of this show.
I am posting the registration form on here. You can also register online at
www.eldy.tzo.com/warrior
I spoke to Ed Hanson tonight, he's the owner of Ed Hanson's Muffler in Spring Valley, a real great guy and the one who started this show. He said he have heard a lot of good thing about our club and is looking forward to seeing us at the show. He also mentioned he got a few sets of tickets donated for Jay Leno's garage to go check out his collection of cars. These tickets will be raffle off at the show and the proceed goes to the charity.
Meet up location:
Starbucks
12889 Rancho Penasquitos Blvd
San Diego, 92129
We will roll out at 7:30am from this location.
Last edited: