Chula Vista, CA
Staff member
Administrator
All,
I contact Shelby today.. And guess what they still make the 2009 Shelby GT500..

I was looking at buying another mustang but, thinking of just getting the super snake package. Includes a whole bunch of stuff and gets titled has a real super snake. What do you all think?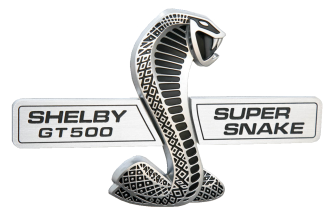 Thank you for your interest in the Shelby GT500 Super Snake. We are excited to offer a car that Motor Trend stated, "Is a brutally fast car". We like to say "you can spend a day at the track dominating the ¼ mile and while everyone else is loading up their race car you can throw in a CD, turn on the AC, and drive home with cruise control!" All of this on 91 octane pump gas.
The Super Snake offers you 750hp to 800 gross HP, giving you the capability of running 11's in the ¼ mile. Strap on some race slicks and see those numbers dip down in to the 10's. This is according to Muscle Mustangs & Fast Fords. Combine all of this power with our Shelby 6 piston brakes and race suspension and you can stop this beast on a dime. The Super Snake package gives you the balance of having both race car and street machine that is 50 state emissions legal. The process will take 60 to 90 days from when the car arrives here.
The Super Snake package will require a GT500 Mustang in coupe or convertible configuration. Note; convertibles require frame strengthening.
We have included attachments about the Super Snake and other exciting products for your review and use. Please take a look at our reservation form. It contains pricing for options and base and higher horsepower applications. Our authorization form will guide you through the deposit procedures and authorize us to accept your deposit when you are ready.
If you have any questions or are ready to place your order, please call us at the number below and we can walk you thru the process. Here is an article from Muscle Mustangs & Fast Ford for you to take a look at.
http://www.musclemustangfastfords.com/features/mmfp_0902_2008_shelby_super_snake/index.html
Thank you for choosing Shelby American to service your High Performance needs.